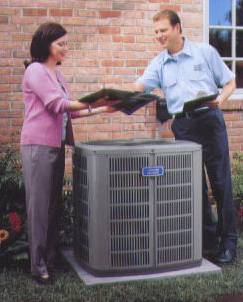 Customer Care
Exceeding Your Expectations
MARTIN'S is an independent American Standard Customer Care Dealer which means you will always be treated with fair, professional, honest service. Out of all the Customer Care Dealers in the nation, MARTIN'S is the Top Ranking Customer Care Dealer with the highest average of customer satisfaction in the nation. We always want you to be completely satisfied and have a peace of mind that your needs are going to be taken care of. We strive to exceed your expectations in everything we do.
Our commitment to your comfort is long term! If you ever have a problem, question or concern about your home's heating and air conditioning system, we hope your first call will be to us.
Testimonials
What our customers have to say about MARTIN'S
Customer Satisfaction Survey Installation Feedback
Peggy G. "Since my present air conditioning system was over 19 years old (with a 10 year warranty) I opted to go ahead and get a new unit before hot weather arrives... Since Martin Air Conditioning/Heating Systems had installed my new furnace and of course had previously installed my present unit, I didn't hesitate to call on them...they are very courteous,know their business and do a very good job. I know that I can call on them any time day or night and they will be here to service my units...these guys should be cloned as they came in a timely manner, installed the unit and taught me how to use the new thermostat. I recommend them to all my friends and neighbors."

Customer Satisfaction Survey Installation Feedback
Nancy H. "Martin's have taken care of our Heating - Air Cond. for years. Joey said bearings were out in fan motor, unit was 18yrs old. I told him to put a new one in. I have complete trust in Martin's H&A. Any problems I just call him. Good honest man."
Customer Satisfaction Survey Service Feedback Mark G. "Martins Heating & Air has taken care of all maintenance and installation on my heating and AC needs. I know the principals personally and utilize them for their integrity, prompt service and availability after hours or on holidays. They always respond when I need help. I trust their knowledge and competency. I would highly recommend them to anyone and, in fact, have done so on several occasions."